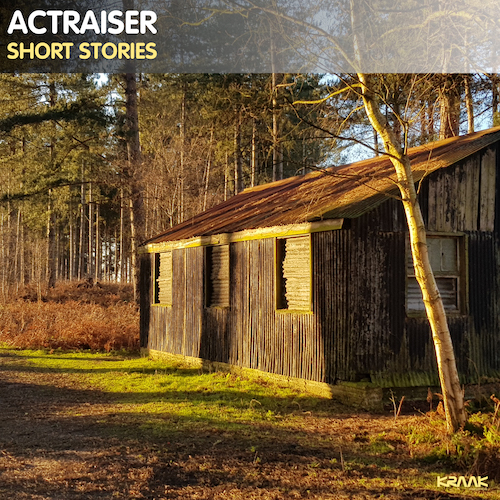 UK based artist, ActRaiser, debuts on Kraak Records with Short Stories, a ten track album of trip-hop and downtempo music. ActRaiser has been releasing liquid drum & bass and deep dubstep (among other genres) for over a decade and, after a short break, returns here with both a brand new style and a computer-free hardware setup.

Half-way through 2020, due to the challenges faced by the COVID-19 outbreak, ActRaiser (a.k.a. Rob Sayles) felt it was the perfect time to create something different - something relaxing, uplifting and hypnotic to accompany the slower pace of life and uncertainty we now all found ourselves facing. So, equipped with his brand new Synthstrom Deluge hardware and inspired by the trip-hop music he listened to as a teenager in the 1990s, he set to work. Short Stories is the resulting fruits of his labours. The influences of trip-hop (both classic and modern) are clear, but it also draws ideas from other styles such as hip-hop, downtempo, broken beat, and jungle, with ActRaiser's unique style that fans of his liquid drum & bass will no doubt recognise.

Rob tells us that the album was not only a way of learning how to use the Deluge, but also a way of focusing his mind and lifting his spirits during the lockdown. He set out to create something that sounded organic; something that would evoke images of late night campfires, walks in forests and on beaches, cosy nights indoors listening to dusty old vinyl records, and appreciating the world around us - especially during these strange times - and he hopes it will have a positive effect on anyone who listens.

Audiophile Analog Mastering: Angelos Timewarp Stoumpos @ Timewarp Mastering

Cover Design: Timewarp



TRACK LIST:
01 Dusty Trail
02 Abbott's Rest
03 For Whom The Bell Tolls
04 Enlightenment
05 Secret Journal
06 Days to Remember
07 Dutch Gold
08 Sleepy Haze
09 Reading by Candlelight
10 Closure


ActRaiser - Short Stories will be available on February 26, 2021 in special edition CDR and digital download at Kraak Store and all mp3 retailers across the internet.