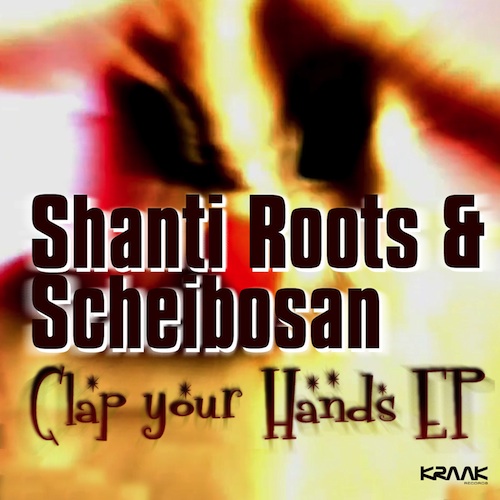 Shanti Roots & Scheibosan are back on track with a new EP under the name "Clap your Hands". This ep is represented by four great tracks (one is given away for free) with a tech house concept.

The first track has given the name to the ep and exists in two versions, vocal version and dub version(free track of the package)and it is all about nu-swing sounds and grooves with fat tech house beats and huge baselines. The song travels us back to charleston and bebop jazz swing sounds. Amazing arrangement and space sounds will make everybody move, with a wide range target group of people that can dance to this melodies!

The second track is another dance monster with blues and tech with old school 303 baseline and old school acid and techno concept sound. One more time has also an amazing video with their nasty bunny hero & hot blond jessie !! Watch the video clip of this song here.

Flusensieb is the third track of this ep and this is another great example of their minimal tech house style with spaced xylofon, wicked soundz and a weird but yet super duper arrangement.

Credits: waldo mastering, jessie, gregor stampfl, martin novak, harald trittner, sabine layer.



BUY THIS RELEASE IN CDR & DIGITAL




TRACK LIST:
1. Shanti Roots & Scheibosan - Clap your hands (Vocal Version)
2. Shanti Roots & Scheibosan - One More Time
3. Shanti Roots & Scheibosan - Flusensieb
4. Shanti Roots & Scheibosan - Clap your hands (Dub Version) FREE DOWNLOAD




Shanti Roots & Scheibosan - Clap your hands will be available on May 31, 2011 for sale in special edition CDR and digital download at Kraak Store and all mp3 retailers across the internet.