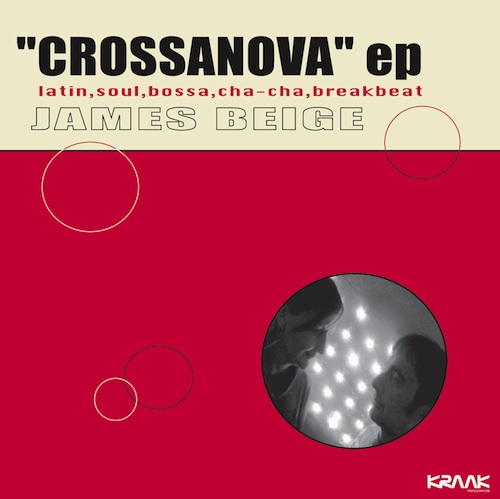 James Beige's first release with Kraak is a five track ep taken from the forthcoming album 'Crossanova'. Leaving behind the deep lounge roots of his debut album '4 Shades of Beige' (2004), 'Crossanova' skis around the slopes, skipping from downtempo funk to global go-go, acid jazz to cosmic soul, mambo to psychedelia, freestyling all the way.

The sound concept on this ep stems from latin soul influences, combined with bossa grooves and moods. It also contains unique and elegant downtempo breakbeats combined with cha cha sounds and a nu jazz feeling. In short, the Crossanova Ep is a great collection, not just for those who like to have their cocktails in luxury bars but also for those who like to stay home relaxing on the sofa to a sound that is pure lounge but really grooves…..

The ep opens with 'Shapeshifter' a masterful piece of downtempo funk. A deep samba groove overplayed with infectious beats, spiky clavinet and rocking horns gives the track a trippy feel like you've already been listening to it for hours.

'Fez fuzz' is the first of two tracks featuring James on accordion. This gypsy/cha cha crossover sounds like the soundtrack to some old Houdini movie. Doors open and close and we're treated to glimpses of some drama just off to the side of the stage. Wierd and wonderful.

Next up and hot wired to the dancefloor is 'Heard it thru the bassline'. The track starts with a Brazilian forro groove set up by surdo, triangle and accordion which builds tantalizingly into a full-tilt global workout. Horn stabs, vocal hooks and, of course, a bassline from hell!

'Mambo Duro' is a slice of latin soul, dubbed out and funked up with afro horns, salsa piano and a crazy mambo beat. James is joined here by Gabriel Walter on piano and Gassan Ahmed on flute.

The ep ends on a calmer note with the dreamlike 'Velvet Flares', a piece of slow hypno- lounge straight from some 60's sci-fi movie. A swaying curtain of saxes, cocktail piano and trippy voices reminding us that 'we too are on a quest to better ourselves'. Enjoy!



BUY THIS RELEASE IN CDR & DIGITAL




TRACK LIST:
1. James Beige - Shapeshifter
2. James Beige - Fez Fuzz
3. James Beige - Heard it thru the bassline
4. James Beige - Mambo Duro
5. James Beige - Velvet Flares




James Beige - Crossanova EP will be available on February 18, 2011 for sale in special edition CDR and digital download at Kraak Store and all mp3 retailers across the internet.