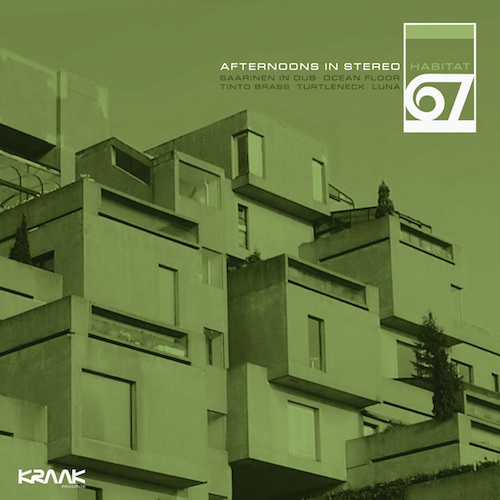 Afternoons In Stereo is back for his second release on Kraak Records, a striking new EP of hi-fidelity tracks collected from his first three albums. Habitat '67, named for the legendary Montreal Expo landmark, features five carefully selected tracks that explore a sofa-friendly groove of lounge, nu-jazz, dub, and downtempo. The Afternoons In Stereo sound -- sometimes soft and elegant, other times punchy or groovy -- is always present, ever characterized by it's urban style and modern sensibilities.

All tracks on this EP were re-edited and remastered specifically for this release.

Ocean Floor starts things off with an ambient, almost solitary vibe that conjurs images of aquamarine waters and shallow reefs -- strap on your scuba tank and dive in!

Inspired by his famous TWA terminal at JFK, Saarinen In Dub is a tripped-out homage to famed architect Eero Saarinen with a subtle funkiness and a bevy of reggae-inflected percussion and horns.

The afro underpinnings and percussive stylings of Tinto Brass, named for the infamous Italian director, saunter and lumber forth with a groovy attitude and a killer bassline that will work your speakers!

Turtleneck brings a fresh take on the bossa nova as flute and saxophone dance and flirt with each other over a finger-snappin' latin beat wrapped in warm rhodes keys. Perfect for early evening as the mood begins to liven up.

Things wrap on a mellower note as Luna unfolds in transluscent layers of lush guitar, imagining a private late night swim for two in the warm Aegean under a full summer moon. A pleasing note to end on, and one that will linger for the listener long after the last note fades ...



BUY THIS RELEASE IN CDR & DIGITAL




TRACK LIST:
01 Ocean Floor
02 Saarinen In Dub
03 Tinto Brass
04 Turtleneck
05 Luna



Afternoons in Stereo - Habitat '67 will be available on September 19, 2009 for sale in special edition CDR and digital download at Kraak Store and all mp3 retailers across the internet.