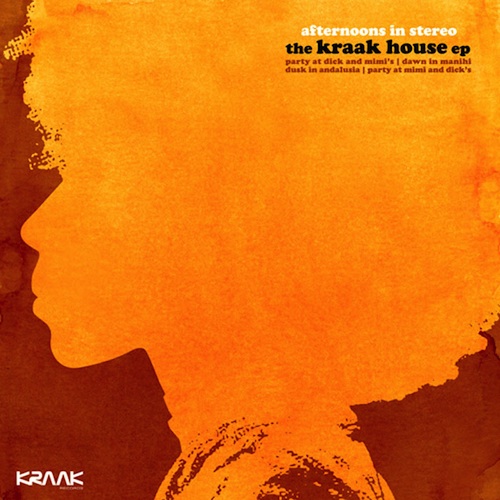 The kraak house ep, from Canada's finest Afternoons in Stereo, is a selection of 4 tracks that bring a distinct four-on-the-floor house vibe. Afternoons in Stereo presents a musical story full of atmosphere with a touch of intrigue, one that triggers the imagination and takes the listener to far away places. House and downtempo is combined, bringing a vibe that embraces a relaxing feeling of all-day parties and sandy, moonlit beaches; unassuming dance floors and stylish soirees. It's a fine choice for a late dinner and drinks with a few friends or simply relaxing on a weekend afternoon on your favorite couch, dreaming and re-energizing.

The story begins with the "Party at dick and mimi's", an uptempo and sexy house tune with great saxophone and flute solos and a cute disco vibe -- flirtatious and funky! The track takes it's time to unfold, introducing each element as the listener is enveloped. Up next is "Dawn in Manihi", keeping the party going but bringing just a hint of the romance of the south seas, of late-night beach parties and the gentle undulations of the ocean surf. "Dusk in Andalusia" is a downtempo, almost trippy 4/4 track with ethereal vocal breaks and a sensual spanish undercurrent, sure to get the heads bobbing with it's infectious groove. The story reaches it's conclusion back at the "Party at Mimi and Dick's -- the peak of this release! The disco elements of it's earlier incarnation are shrugged off in favor of a grittier, dirty production that is earthy and retro with a big nod to the 70's. It is for sure the final touch that will make you fall in love with this ep!

The artwork is once again by afternoons in stereo, a multi-talented artist in both music and graphic design.



BUY THIS RELEASE IN CDR & DIGITAL




TRACK LIST:
-Party At Dick And Mimi' S
-Dawn In Manihi
-Dusk In Andalusia
-Party At Mimi And Dick' S


Afternoons in Stereo - The Kraak House EP will be available on April 30, 2009 for sale in special edition CDR and digital download at Kraak Store and all mp3 retailers across the internet.