Funky Destination - We Will All Go Funky Ep

Catalogue No: KRK004
Release Date: April 9th 2009.
Media: Digital EP - Virtual Vinyl


Disco House at its best meets Funk to rock on the danceflorrs, be ware while you drive and listen to this...

FILE UNDER: FUNKY HOUSE / DISCO / DANCE

BUY THIS RELEASE IN MP3 & CDR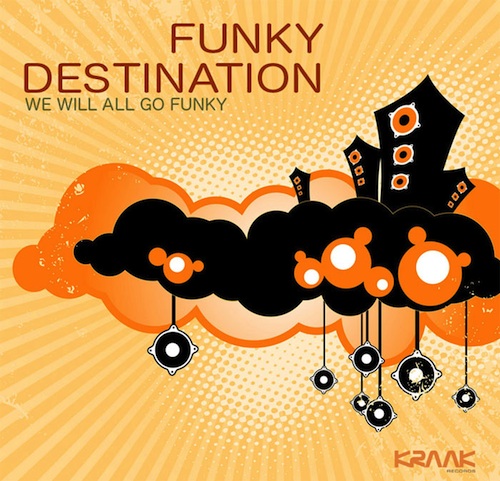 Welcome to your funky destination!! Another completely different style release from Kraak records! This time the mood is Funky to the bone! Vladimir Sivc is here to rock the floor with his very disco house and funky attitude!

Vladimir Sivc a.k.a. Mr. Louie, presents the Funky Destination project. As a revolutionary return to the retro feeling of pure and clean funky instinct he was up to create wild & groovy sound. Louie made his first steps into music taking guitar lessons. Later on he was doing some rockin' business singing and playing rhythm guitar. In the late '90 he moves from the eastern part to the west coast of Croatia (Adriatic Sea). Meeting with turntable components he experiences working as a DJ. he then starts to produce his own music, traveling through various styles, using house and tribal elements trying to avoid artificial sound processing as much as possible. Using live instruments, the sound remains fresh and alive, resulting in a music product which vibes contain unbreakable power of moving.

We will all go funky is a great selection of 4 tracks with a very uptempo spirit under the tag of disco house & funk. One thing is certain: there is no possible way to listen to this release sitting down... his music has this great effect that will keep you up moving to the beat, so beware when listening while driving..



BUY THIS RELEASE IN CDR & DIGITAL




TRACK LIST:
-WE WILL ALL GO FUNKY (ORIGINAL EXPERIENCE)
-WE WILL ALL GO FUNKY (LOUIE' S DUB)
-MARIJUANA
-MARIJUANA & DA BOTTLE OF TEQUILA (HAVANA CUBIS MIX)


Funky Destination - We Will All Go Funky Ep will be available on April 9th, 2009 for sale in special edition CDR and digital download at Kraak Store and all mp3 retailers across the internet.