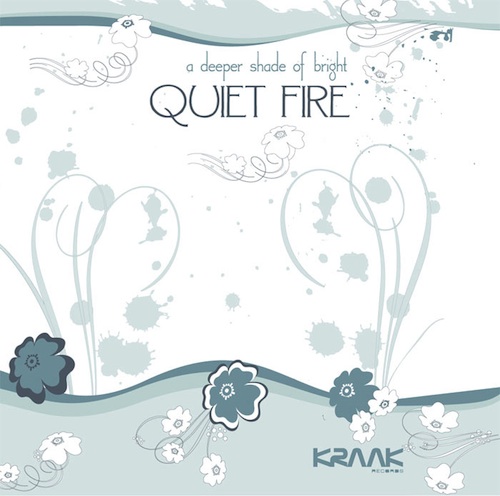 Kraak records continue their musical journey with the debut album of quiet fire 'a deeper shape of bright'. As promised, our musical direction will cover all aspects of modern electronica.

Quiet Fire is the project of songwriter/producer Joachim Staudt. With the collaboration of singer/songwriter hartog eysman they created their debut album 'a deeper shade of bright'.

Joachim Staudt has worked as a sideman with different kinds of jazz, pop and latin-bands. He has performed with Eddy Martinez, Peter Herbolzheimer, Flowriders, Maria Schneider, and many more. He has played on the montreux jazz festival, the northsea jazz festival, and as an support act for Isaac Hayes. He has contributed his playing to albums of the Flowriders, Dublex Inc. and Gerd. While living in Amsterdam he met singer/songwriter Hartog Eysman. They played together in the nusoul-band Flowriders and kept in contact ever since.

A few words is enough to reveal the character of this album: Subtle and melodic vocals combined with soft and downtempo tunes with a light touch of pop vibes. Their sound is deep and emotional and is well combined with soulful lyrics. Kudos to Felix Stecher from dublex inc for his great and valuable help in the production of this album.

BUY THIS RELEASE IN CDR & DIGITAL





TRACK LIST:
1. TAKE OFF
2. ON MY MIND
3. CANíT STAND TO SEE YOU GO
4. TINY CITY MADE OF SAND
5. WITNESS
6. GIVE ME A REASON
7. MOSAIC
8. EIGHT DAYS
9. SOMETHING TO BELIEVE IN 10. SILVER SCENE
11. MORNING RISE
12. SPINNING ME AROUND
13. LOST WALTZ


Quiet Fire - A Deeper Shade Of Bright will be available on March 18th, 2009 for sale in special edition CDR and digital download at Kraak Store and all mp3 retailers across the internet.