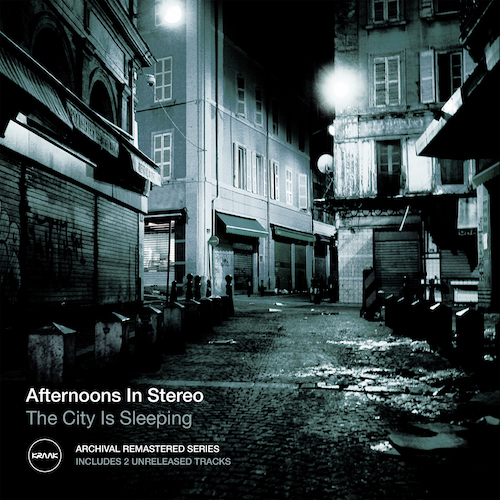 The third and final in the Archival Remastered Series, covering the first three DIY albums produced and released by Canadian producer Afternoons In Stereo, The City Is Sleeping also represents a quantum leap forward for the artist stylistically and musically.

Where previous releases ably display an ambitious artist still seeking out a certain musical definition, The City Is Sleeping shows the producer fully in his element and firing on all cylinders. Building on the jazz template that was a hallmark of the first two records, this third studio album stretches out and embraces a soundscape that sees jazz mingle effortlessly with lounge, funk and downtempo while newly coloured with varied and exciting new shades and hues. Instrumental by design, the record has lush instrumentation that leans into a vintage sounding tone that is still thoroughly contemporary in execution. In many ways The City Is Sleeping would become the blueprint for the Afternoons In Stereo sound. It's also the record that caught the ear of Timewarp and Kraak empresario Angelos Stoumpos, who would work with Afternoons In Stereo on every release moving forward.

The proverbial gauntlet thrown down is never more apparent than on the signature track Black Colossus, featuring piano from guest keyboardist Ray Harris from The Fusion Experience. Pushing into club-jazz territory akin to the sort of vibe heard from modern Italy, the track acts as a sort of manifesto for the record -- reminding the listener, 'Don't look on jazz as a classical form of music...'. So, this is the album where soloing really came to the fore," says Greg Vickers, the man behind Afternoons In Stereo, 'and this is well illustrated on Black Colossus, with it's extended brass and flute soloing, and on tracks like One For Toshi and The Last Bohemian with similar techniques and flourishes. The record really benefits from the guest musicians, who brought SO much to the overall effectiveness of the album as a whole.'

The album gets downright adventurous on tracks like The Road To Damascus, with its desert tuareg vibe conveyed perfectly by Arabic percussion and an otherworldly oud. Sea Of Cortez harkens to the Sergio Leone side of cinematica, all acoustic guitars and a dramatic solo that would make Morricone proud. Album centerpiece How Does It Feel? brings a huge beat and an insistent funkiness, not to mention a sublime guitar solo courtesy of Oliver Schraa. Album closer Waltz Of The Fellaheen is a genuine waltz, set around ethereal brass and a haunting violin, and complemented by vibraphone and gorgeous french horn and flute solos. Nothing, if not ambitious!

Long out of print and unavailable, Kraak Records is proud to release The City Is Sleeping as the third of three re-releases of the first three albums in the Afternoons In Stereo catalog and featuring two previously unreleased tracks from the original sessions: Cosa Nostra and What You See (Is What You Get). 'I love both of those songs so much, but the truth is neither fits the overall vibe and sequencing of the final album. I am ecstatic that they are finally getting released, especially What You See (Is What You Get) which on any other album could have been a single!' The track also features keyboardist James Orr and saxophonist Andrew King, who would become essential to Afternoons In Stereo moving forward, as well as Jon Daly on some newly recorded bass.

Kraak Records is pleased to present the re-release of The City Is Sleeping by Afternoons In Stereo, available this July on digital, streaming, and special edition CD. Part of the Archival Remastered Series, with new analog audiophile mastering.

Audiophile Analog Mastering: Angelos Timewarp Stoumpos @ Timewarp Mastering

Cover Design: Greg Vickers



TRACK LIST:
01 Hypotenaus (2021 Remastered)
02 The City Is Sleeping (2021 Remastered)
03 Black Colossus (2021 Remastered)
04 One for Toshi (2021 Remastered)
05 Luna (2021 Remastered)
06 The Road to Damascus (2021 Remastered)
07 How Does It Feel (2021 Remastered)
08 Sea of Cortez (2021 Remastered)
09 Virgo Nocturna (2021 Remastered)
10 The Last Bohemian (2021 Remastered)
11 Waltz of the Fellaheen (2021 Remastered)
12 Cosa Nostra (Bonus Track)
13 What You See (Is What You Get) (Bonus Track)


Afternoons in Stereo - The City Is Sleeping (2021 Remastered) will be available on July 23 2021, for sale in special edition CDR and digital download at Kraak Store and all mp3 retailers across the internet.