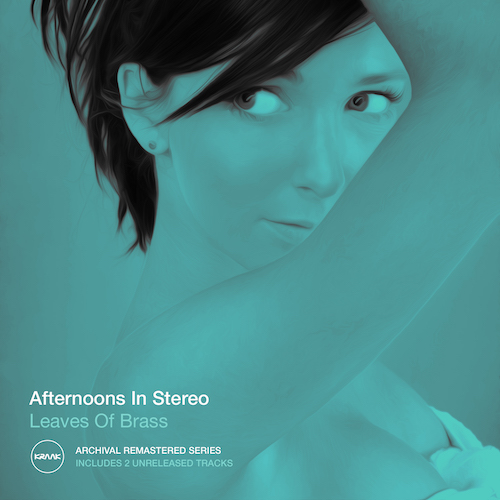 They say the second album is the hardest for any artist, but this proved untrue for Canadian producer Afternoons In Stereo. With a myriad of musical ideas and new concepts to explore, the sophomore slump was hardly a worry. Starting with an album title that pays tribute to poet Walt Whitman and infers that jazz is a driving component, the record would push the envelope and defy expectations.

Leaves Of Brass came two years after the debut, Aural Pleasure, but it is easy to hear the music was already pushing into new sonic territory. "The biggest departure was, I think, away from club music," says producer Greg Vickers, the man behind Afternoons In Stereo. "I was determined to not rely on the repetition of loops and 4/4 beats and to find a way to express myself instrumentally in a way that wasn't repeating what I had done." In fact, there is only one song on the album that employs the dancefloor-friendly house sound that was more prevalent on the debut album -- the dreamy Ibiza club anthem of Andalusia. Across the rest of the album its fat cinematic spaghetti western funk (Django's Revenge) and urban blaxploitation funk (The Puma), glacial ambient (Tidal Passage) and vintage spy thriller beats (Chasing The Lotus).

Still working independently, both producing and releasing music from his home, the album definitely signifies a shift towards an increasingly cinematic sound. "My work was much more percussive, coming from my background as a drummer and conga player, and I really put a lot of time and attention into that area of the record. The album is also denser, I think, more layered and textured … there is a complexity in composition that is a step forward. I I hope it shows I was slowly growing as an artist!"

Leaves Of Brass also marks the first time that the producer brought in an outside musician as well. Previously, everything was programmed and played by Vickers himself but one relaxed session with guitarist Oliver Schraa was to prove very fruitful both for the album and for future sessions. "Oliver is an old friend, we were in our first band together when we were 13 years old and learned to play at the same time," says Greg. "We also have a lot of overlap in music taste, especially when it comes to jazz -- we're both big Grant Green and Django Reinhardt fans!" Schraa proved to be as adventurous as Vickers, and would lay down much of the beautiful guitar work that runs through much of the album, especially on the jazzy and ethereal song The Great Aerial Ocean, a song that continues to be a signature Afternoons In Stereo track emblematic of his hallmark sound. Recording live musicians would become a staple process on subsequent releases to come.

Long out of print and unavailable, Kraak Records is proud to release Leaves Of Brass as the second of three re-releases of the first three albums in the Afternoons In Stereo catalog. Featuring two previously unreleased tracks from the original sessions, Abstrakt Jazz and Work My Mind, fans will be pleased. "These are tracks I left off strictly because of time -- I didn't want the album to exceed an hour. I think they are very much in keeping with the flow of the record, and will definitely offer fans of Leaves Of Brass something new to add to the proceedings."

Audiophile Analog Mastering: Angelos Timewarp Stoumpos @ Timewarp Mastering

Cover Design: Greg Vickers



TRACK LIST:
01 Tinto Brass (2021 Remastered)
02 Pied a Terre (2021 Remastered)
03 The Great Aerial Ocean (2021 Remastered)
04 Saarinen In Dub (2021 Remastered)
05 The Puma (2021 Remastered)
06 Django's Revenge (2021 Remastered)
07 Late For Goodbye (2021 Remastered)
08 Andalusia (2021 Remastered)
09 Tidal Passage (2021 Remastered)
10 Chasing The Lotus (2021 Remastered)
11 Percussions (2021 Remastered)
12 The Puma Reprise (2021 Remastered)
13 Work My Mind (Bonus Track)
14 Abstrakt Jazz (Bonus Track)


Afternoons in Stereo - Leaves of Brass (2021 Remastered) will be available on June 25 2021, for sale in special edition CDR and digital download at Kraak Store and all mp3 retailers across the internet.