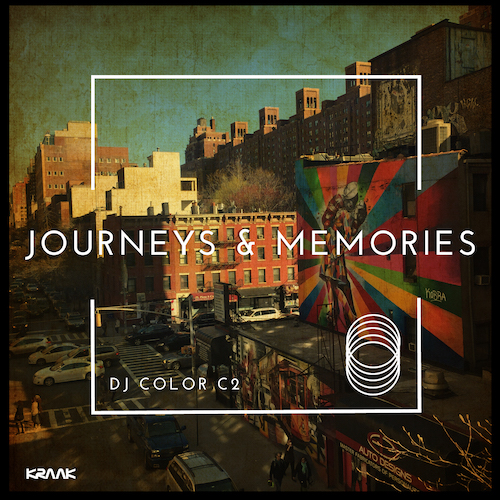 We are happy to welcome Dj Color C2 aka Daniel Schaerz to our artist roster.

After releasing tracks that appeared on our parent label's compilations at Timewarp Music we are happy to present his excellent debut EP under the title 'Journeys & Memories'.

The release includes six fresh tracks that covers styles from Nu Jazz, Latin tropical house, moving from disco to electro funk synth house and closing with downtempo beats. All tracks includes a great electronic touch that doesn't miss at all the organic sounds of live instrumentation on his fabulous arrangements.

As the artist describes, each and every track is connected with memories and journeys to different countries. Stories about track recordings with dear friends.

Dj Color C2 explored different music genres inspired by the eclectic music he has listened to over the years. Taking his own approach for each track, do what sounds good to your ears, let the tune go where it leads to, naturally! Even though all of these tunes are just instrumentals, each one of them tell's a story.

Audiophile Analog Mastering: Angelos Timewarp Stoumpos @ Timewarp Mastering
Cover Design: Daniel Schaerz
Additional Cover Edit: Timewarp

Credits: Bass: Thiago Duarte (Brasil), Percussion: Pedi 'Shanti' Sterchi , Guitars: Roman Wiedemar, Keys: Daniel Schaerz, Sax: Silvano Stauffer, Guitar: Andy Maurer, Keyboards: Luciano Nunes, Bass: Marcelo Nassar (Brasil), Guitar: Denis Magrao (Brasil).



TRACK LIST:
1. Dj Color C2 - New Paths
2. Dj Color C2 - New Paths feat. Silvano Stauffer (Remix 21)
3. Luciano Nunes & Dj Color C2 - Magali Chegou Na Praia
4. Dj Color C2 - Freak Day
5. Dj Color C2 - High Tight
6. Dj Color C2 - Flight To Light


Dj Color C2 - Journeys & Memories will be available on June 11 2021, for sale in special edition CDR and digital download at Kraak Store and all mp3 retailers across the internet.