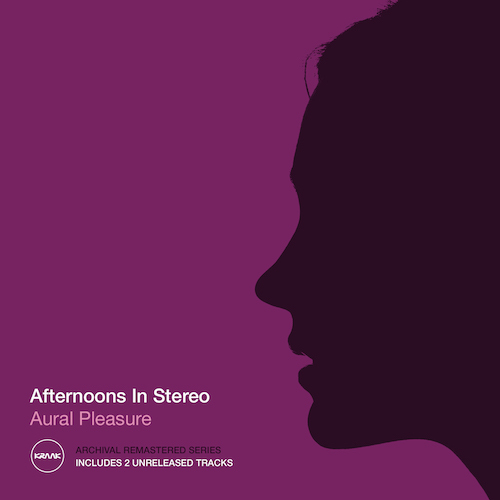 Over 15 years ago, Canadian producer Afternoons In Stereo, aka Greg Vickers, self-released his debut album Aural Pleasure, a music project steeped in downtempo and house approached from a somewhat jazzier perspective. In good company at the time with artists like Glenn Underground, De Phazz, and The Karminsky Experience, the album announced a bold and brave new artist to the electronic music scene who would come to influence a whole new generation of beatmakers.

"I had evolved from a drummer and a percussionist to learning how to use these new digital tools to make music," says the artist. "Enabling my computer as a musical instrument was a new and daunting prospect and I am mostly self-taught. Developing a songwriting and compositional skill-set that encompassed my aspirations for instrumental music production also really brought all of my musical vocabulary to the fore."

Drawing from a deep affection for club music and an enthusiasm for the (then) new subgenre known as downtempo or chillout, Vickers set out to bring a somewhat organic approach to the music that drew from jazz, rare groove, and ambient but with an analog sensibility. "That initial album was me throwing everything into the mix -- a bit of jazz (Esquema da Sophia), a little bossa (On The Way To Lucia's), some drum 'n bass (Architexture). I was very influenced by the music coming out of the ESL and Good Looking labels as well as the sort of living-room house aesthetic of the era from labels like OM, Hed Kandy, and Naked Music." As a drummer it would surprise no one that Afternoons In Stereo was heavy on beats and rhythms, but what was perhaps more astonishing was the level of musical exploration that was present, from french pop to balearic underground to dub. With a steady underpinning of instrumental experimentation using traditional brass, upright bass, flutes, guitar, and keyboards, the record did nothing if not set the bar high -- as a debut album, and for subsequent Afternoons In Stereo records to come.

Long out of print and unavailable, Kraak Records is proud to release Aural Pleasure as the first of three re-releases of the first three albums in the Afternoons In Stereo catalog. Featuring two previously unreleased tracks from the original sessions, Driving At Night and Lambretta Rossa, fans will find much to enjoy here. "I am quite excited that these songs are seeing release after so long in the vaults," says Vickers. "They really do take me back to where I was at musically at the time and provide fans a new shade of early Afternoons In Stereo to enjoy!"

Kraak Records is pleased to present the re-release of Aural Pleasure by Afternoons In Stereo, available (insert Release Date here) on digital, streaming, and special edition CD. Part of the Archival Remastered Series, with new analog audiophile mastering courtesy of Angelos Timewarp Stoumpos at Timewarp Mastering.

Audiophile Analog Mastering: Angelos Timewarp Stoumpos @ Timewarp Mastering

Cover Design: Greg Vickers



TRACK LIST:
01 Ocean Floor (2021 Remastered)
02 Sunrais (2021 Remastered)
03 Turtleneck (2021 Remastered)
04 Manihi (2021 Remastered)
05 Esquema da Sophia, Pt.I (2021 Remastered)
06 On The Way To Lucia's (2021 Remastered)
07 Esquema da Sophia, Pt.II (2021 Remastered)
08 Architexture (2021 Remastered)
09 Metrosexual (2021 Remastered)
10 Esquema da Sophia, Pt.III (2021 Remastered)
11 Sao Paulo (2021 Remastered)
12 Modernist Abode (2021 Remastered)
13 Driving At Night (Bonus Track)
14 Lambretta Rossa (Bonus Track)
A New Dawn, A New Day (Free Download) (Bandcamp Only)

Afternoons in Stereo - Aural Pleasure (2021 Remastered) will be available on May 21 2021, for sale in special edition CDR and digital download at Kraak Store and all mp3 retailers across the internet.