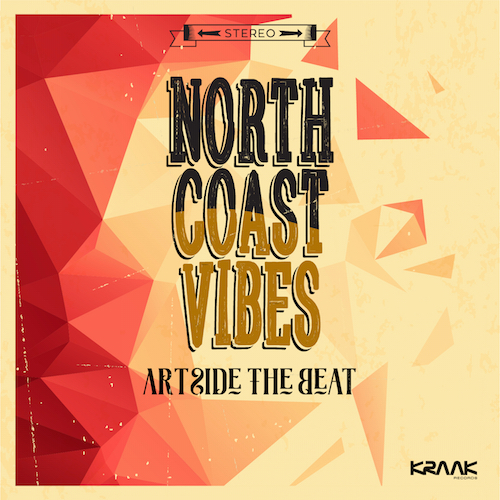 North Coast Vibes is a collective of Dj's, producer and musicians based in Opatija, (Croatia). Their vibes perfectly blended with the beautiful seaside of the Northern Adriatic coast where they met and inspired from. Their musical backgrounds stands from classic music to blues and from electronic to soul.

With Artside The Beat album you will enjoy their touch in music and their unique style, it will take you into their deep consciousness of relaxing harmonies and melodies, with elegant grooves and spicy rhythms with a touch of ambient & downtempo and an extra sense of lounge & stylish upbeat house. North Coast Vibes is a relaxing journey where sweet instruments and vocals blended together with electronica – in order to achieve full impact on the listener. Their style can be named as: Adriatic Lounge. During their music creation, no instruments or vocals are sampled. Everything is played live by them and recorded mostly live in their studio.

Cover Design: Vagelis Phocas.

North Coast Vibes are:

Nicklas Persson: Saxophone, Keyboards, Vocal;
Zlatko Olic: Classic Guitar, Piano, Japanese Koto, Cello;
Igor Perovic: Electric Guitar, Slide Guitar;
Davor Vuccetic: Bass Guitar, Acoustic Guitar, Vocal, Producer;
Amor Jashari: Groovemaster, Producer


BUY THIS RELEASE IN CDR & DIGITAL




TRACK LIST:
01. Recon
02. A Day In Opatija feat. Yuji
03. Best Intentions (Instrumental)
04. Madge feat. Below Bangkok & Green Buddha
05. Stay Sharp
06. Tenderness feat. Aleksandra
07. Soul Time
08. Best Intentions feat. Christine
09. A Day In Opatija feat Yuji (Nik's Sea Cloud Remix)



North Coast Vibes - Artside The Beat will be available on August 25, 2017 for sale in special edition CDR and digital download at Kraak Store and all mp3 retailers across the internet.